body{–wp–preset–color–black: #000000;–wp–preset–color–cyan-blue-gray: #abb8c3;–wp–preset–color–white : #ffffff;–wp–preset–color–pale-pink: #f78da7;–wp–preset–color–vivid-red: #cf2e2e;–wp–preset–color- -luminous-vivid-orange: #ff6900;–wp–preset–color–luminous-vivid-amber: #fcb900;–wp–preset–color–light-green-cyan: #7bdcb5; –wp–preset–color–vivid-green-cyan: #00d084;–wp–preset–color–pale-cyan-blue: #8ed1fc;–wp–preset–color- -vivid-cyan-blue: #0693e3;–wp–preset–color–vivid-purple: #9b51e0;–wp–preset–gradient–vivid-cyan-blue-to-vivid-purple : linear-gradient(135deg,rgba(6,147,227,1) 0%,rgb(155,81,224) 100%);–wp–preset–gradient–light-green-cyan-to-vivid-green -cyan : linear-gradient(135deg,rgb(122,220,180) 0%,rgb(0,208,130) 100%);–wp–preset–gradient–bright-vivid-amber-to-bright-orange: linear-gradient (135deg,rgba(252,185,0,1) 0%,rgba(255,105,0,1) 100%);–wp–preset–gradient–luminous-bright-orange-to-red-vivid: linear -gradient(1 35deg,rgba(255,105,0,1) 0%,rgb(207,46,46) 100%);–wp–preset–gradient–very-light-grey-to-cyan- bluish gray: linear gradient(135deg,rgb(238,238,238) 0%,rgb(169,184,195) 100%);–wp–preset–gradient–cool-to-warm-spectrum: linear-gradient( 135deg,rgb(74,234,220) 0%,rgb(151,120,209) 20%,rgb(207,42,186) 40%,rgb(238,44,130) 60%,rgb(251,105, 98) 80%,rgb(254,248.76) 100%);–wp –preset–gradient–blush-light-purple: linear-gradient(135deg,rgb(255,206,236) 0%,rgb(152,150 .240) 100%);–wp–preset–gradient–blush-bordeaux: linear-gradient(135deg,rgb(254,205,165) 0%,rgb(254,45,45) 50%,rgb(107, 0.62) 100%);–wp–preset–gradient–luminous-twilight : linear-gradient(135deg,rgb(255,203,112) 0%,rgb(199,81,192) 50%,rgb(65,88,208 ) 100%);–wp–preset–gradient–pale-ocean: linear- gradient(135deg,rgb(255,245,203) 0%,rgb(182,227,212) 50%,rgb(51,167,181) 100%);– wp–preset–gradient–electric-grass: linear-gradient(135deg,rgb(202,248,128) 0%,rgb(113,206,126) 100%);–wp–preset–gradient–midnight: linear-gradient( 135deg,rgb(2,3,129) 0%,rgb(40,116,252) 100%);–wp–preset–duotone–dark-grayscale: url('#wp-duotone-dark-grayscale' );– wp–preset–duotone–grayscale: url('#wp-duotone-grayscale');–wp–preset–duotone–purple-yellow: url('#wp-duotone- purple-yellow' );–wp–preset–duotone–blue-red: url('#wp-duotone-blue-red');–wp–pres et–duotone–midnight: url('#wp-duotone-midnight');–wp–preset–duotone–magenta-yellow: url('#wp-duotone-magenta-yellow');- -wp–preset–duotone–purple-green: url('#wp-duotone-purple-green');–wp–preset–duotone–blue-orange: url('#wp-duotone -blue-orange');–wp–preset- -font-size–small: 13px;–wp–preset–font-size–medium: 20px;–wp–preset–font -size–large: 36px;–wp–preset –font-size–x-large: 42px;}.has-black-color{color: var(–wp–preset–color– black) !important;}.has-cyan-bluish-gray -color{color: var(–wp–preset–color–cyan-blue-gray) !important;}.has-white-color{color : var(–wp–preset–color– white) !important;}.has-pale-pink-color{color: var(–wp–p reset–color–pale-pink) ! important;}.has-vivid-red-color{color: var(–wp–preset–color–vivid-red) !important;}.has-luminoso -vivid-orange-color{color: var( –wp–preset–color–luminous-vivid-orange) !important;}.has-luminoso-vivid-amber-color{color: var(–wp –preset–color–luminoso-vivid -amber) !important;}.has-l ight-green-cyan-color{color: var(–wp–preset–color–light-green-cyan) !important;}.has-vivid-green-cyan-color{color: var(– wp–preset–color–vivid-green-cyan) !important;}.has-pale-cyan-blue-color {color: var(–wp–preset–color–pale-cyan-blue ) !important;}.has-vivid-cyan-blue-color{color: var(–wp–preset–color –vivid-cyan-blue) !important;}.has-vivid-purple-color{ color: var(–wp–preset–color–vivid-purple) !important;}.has-black-background -color{background-color: var(–wp–preset–color–black ) !important;}.has-cyan-blue-gray-background-color{background-color: var(–wp– preset–color–cyan-blue-gray) !important;}.has-white- background-color{background-color: var(- -wp–preset–color–white) !important;}.has-pale-pink-background-color{background-color: var(–wp–preset –color–pale-pink) !important ;}.has-vivid-red-background-color{background-color: var(–wp–preset–color–vivid-red) !important;}. has-luminous-vivid-orange-background-color {background-color: var(–wp–prese t–color–luminous-vivid-orange) !important;}.has-luminoso-vivid-amber-background-color{background-color: var(–wp –preset–color–luminoso-vivid- amber) !important;}.has-light-green-cyan-background-color{background-color: var(–wp–preset–color–light-green-cyan) !important;}.has-vivid -green-cyan-background-color{background-color: var(–wp–preset–color–vivid-green-cyan) !important;}.has -pale-cyan-blue-background-color{background -color: var(–wp–preset–color–pale-cyan-blue) !important;}.has-vivid-cyan-blue-background-color {background-color: var(–wp– preset–color–vivid-cyan-blue) !important;}.has-vivid-purple-background-color{background-color: var(–wp– preset–color–viv id-purple) ! important;}.has-black-border-color{border-color: var(–wp–preset–color–black) !important;}.has-cyan-azul-gray-border -color{border- color: var(–wp–preset–color–cyan-blue-gray) !important;}.has-white-border-color{border-color: var(–wp– preset–color- -white) !important;}.has-pale-pink-bo rder-color{border-color: var(–wp–preset–color–pale-pink) !important;}.has -vivid-red-border-color{border-color: var(–wp- -preset–color–vivid-red) !important;}.has-bright-vivid-orange-border-color{border-color : var(–wp–preset–color–bright-bright-orange ) !important;}.has-bright-bright-amber-border-color{border-color: var(–wp–preset- -color–bright-bright-amber) !important;}.has-light- green-cyan-border-color{border-color: var(–wp–preset–color–light-green-cyan) !important;}.has-vivid-green-cyan-border-color{border- color: var(–wp–preset–color–vivid-green-cyan) !important;}.has-pale-cyan -blue-border-color{border-color: var(–wp–preset –color–pale-cyan-blue) !import ant;}.has-vivid-cyan-blue-border-color{border-color: var(–wp–preset–color–vivid-cyan- blue) !important;}.has-vivid-purple- border-color{border-color: var(–wp–preset–color–vivid-purple) !important;}.has-vivid-cyan-blue -to-vivid-purple-gradient-background{background: var(–wp–preset–gradient– vivid-cyan-blue-to-vivid-purple) !important;}.has-light-green-cyan-to-vivid-green-cyan-gradient-background{ background: var(–wp–preset–gradient –light-green-cyan-to-vivid-green-cyan) !important;}.has-bright-bright-amber-to-bright-vivid-orange-gradient-background{background: var(–wp– preset–gradient–bright-vivid-amber-to-bright-bright-orange) !important;}.has-bright-bright-orange-to-bright-red gradient background{background: var(–wp- -preset–gradient–luminous-vivid-orange-to-vivid-red) !important;}.has-very-light-gray-to-cyan-blue-gray-gradient-background{background: var(– wp–preset–gradient–very-light-gray-to-blue-cyan-cyan) !important;}.has-cool-to-warm- spectrum gradient -background{background: var(–wp- -preset–gradient–cool-to-warm-spectrum) !important;}.has-blush-light-purple-gradient-background{background: var(–wp –preset–gradient–blush-light -purple) !important;}.has-blush-bordeaux-gradient-background{background: var(–wp–preset–gradient–blush-bordea ux) !important ;}.has-luminous-dusk-gradient-background{background: var(–wp–preset–gradient–luminous-dusk) !important;}.has-pale-ocean-gradient-background {background: var (–wp–preset–gradient–pale-ocean) !important;}.has-electric-grass-gradient-background{background: var(–wp–preset–gradient– electric-grass) !important;}.has-midnight-gradient-background{background: var(–wp–preset–gradient–midnight) !important;}.has-small-font-size{font-size : var(- -wp–preset–font-size–small) !important;}.has-medium-font-size{font-size: var(–wp–preset–font-size– medium) !important ;}.has-large-font-size{font-size: var(–wp–preset–font-size–large) !important;}.has-x-large-font-size {font-size : var (–wp–preset–font-size–x-large) !important;}
May 17, 2022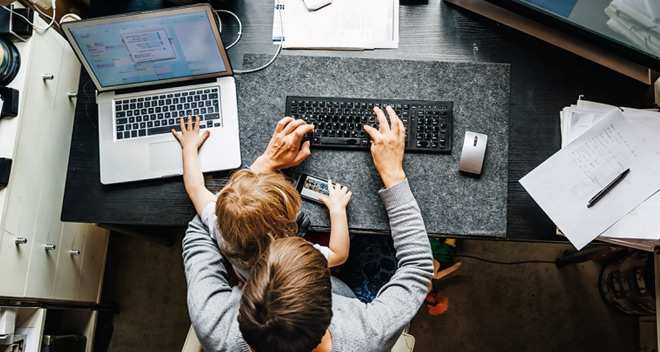 Robert Walters, professional recruitment consultant, released data from the 'Walters People Labor Market Survey'.
When changing jobs, 52% consider teleworking a determining factor. Employees can organize their workday more effectively with remote work, reconciling work and family life with more flexible hours. The Home Office is a type of emotional salary that is increasingly valued.
72% indicate that noise generated in the office itself and interruptions reduce their productivity. Additionally, commuting to the office is a stress load for some due to traffic or the collapse of public transport and a waste of time and money, which can have a negative impact on motivation.
all over the inside, 68% believe they could be more productive if they could work from home. "Offering the possibility of teleworking is a good way for companies to show their concern for the well-being of their employees, as well as the trust they place in them and in their work.", point out from Robert Walters, adding that the risk of workers getting burned is reduced by forcing them to physically come to the office.
Technological tools like Office 365 They facilitate teleworking in an operational and effective way. For example, you can video conference with Teams, organize tasks with Planner, have all your documents in the cloud and on your computer synced with OneDrive or have all your office automation programs (Word, Excel, PowerPoint.. .).
For Robert Walters there is 4 basic fundamentals in managing remote work teams:
The transformation of the evaluation system: It will be results-based and not face-to-face, which implies a change in the mindset of those responsible for the team.
The generation of (innovative) communication alternatives: To prevent employees from feeling less personal connection and less sense of belonging to the organization, the use of digital channels (Workplace, Teams) should be encouraged and events that encourage interrelationships should be established.
Creating a flexible culture: professionals should not feel disadvantaged by working remotely or feel less benefited than those who work in person.
Managing Burnout Syndrome: remote work and the use of devices make the separation between work and private life blurry, which is often reflected in a drop in performance, detachment and demotivation. Managers should conduct assessments to ensure that employees do not over-communicate.