Before there were online and paylater financing services, credit cards were the most used facility to pay for consumer needs. However, credit cards have more complicated requirements, so not everyone has them. Lately, to compete with the presence of fintechs that provide installment services, credit cards make it easier to obtain them, making them more open to more people. But, in this paylater era, is it still necessary to have a credit card? Reflecting on China, credit cards are almost never used.
In my opinion, having a credit card still has some benefits, but not just for increasing purchasing power or supporting our hedonistic lifestyle. Here are some of the benefits of credit cards that we can use wisely:
0% free in installments up to 12 months
I discussed in my previous content that one thing about credit cards that online financing can't beat is this feature. Some credit cards allow us to convert our transactions into interest-free, fee-free installments for up to 12 months. Typically, there is a nominal transaction minimum of 500K so that the transaction can be converted into installments. If you already have a credit card, be sure to get information about it from your card issuer. If you don't have a credit card, this might make you consider getting one.
I don't recommend this 12 month installment to make us more hedonistic and addicted to shopping, but rather to help us manage our finances better. For transactions that we successfully convert, we use the money first by investing it, so that when it's time to pay, we earn money that way.
For example, I bought an item to resell for 600k. I changed the transaction to 12 months free of charge and interest free. Every month I pay only 50k to the credit card company, and
This feature is very useful for our financial management, as our liabilities are reduced in the short term and spread over the long term.
Discounts for purchases and services
Credit cards have always provided many promotions to attract more users, and the most common are discounts for eating in certain places. Over time, the categories of promotions offered have also increased, from services to discounts on online purchases.
If used wisely, these promotions are sure to help us save more. For example, take advantage of online shopping promotions to buy everyday necessities, not to buy unnecessary gadgets. Or choose a place to eat that offers a credit card discount.
free amenities
Some credit cards come with free features such as airport lounges, free coffee, free insurance, and loyalty points for certain services such as markets and airlines.
Most of these facilities can be obtained without any conditions, so just having a credit card gives us additional benefits.
Unblock access to some services
Many services require ownership of a credit card as a reference to provide a service or service, for example post-paid communication cards, sports club memberships or content subscriptions. Credit cards are also often a reference when you want to take out a loan for other needs such as business capital loans, home loans or motor vehicle loans. The reason is that credit card ownership has a direct effect on your credit score, which is nationally connected across Indonesia (including online banking and lending systems as well).
However, there is one thing I need to remember: don't pay the credit card annual fee! Did you know that you can request the cancellation of your credit card annuity? Typically, you will only be asked to make transactions above a certain nominal and the fees charged will be refunded in the next month. Make sure you always do this so that all the benefits of a credit card can be enjoyed without any fees!
This article is financially sponsored by OneAset, therefore, the ownership rights in this article are wholly owned by OneAset. This article was previously published on the OneAset platform and this blog is a repost for promotional purposes only. I'm committed to featuring at least 20 new educational posts (not reposts from this blog) every month on OneAset, so if you want to enjoy my new content as soon as possible, be sure to register with OneAset and follow my profile there. You will also get free gold and support me directly at no cost.
How to register OneAset?
Use the link https://app.oneaset.co.id/s/N3amMv to register
If you don't have the ONEASET app on your phone, you will be directed to download it first from the Playstore
Click the link again after installing ONEASET
The ONEASET app will open automatically and an image will appear as below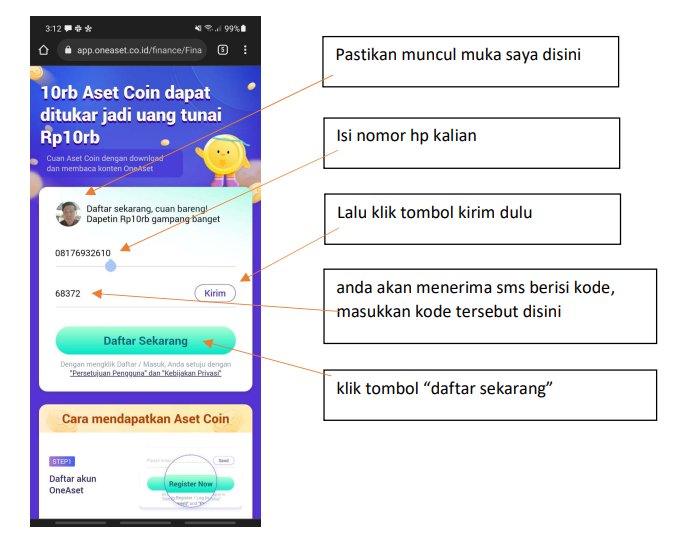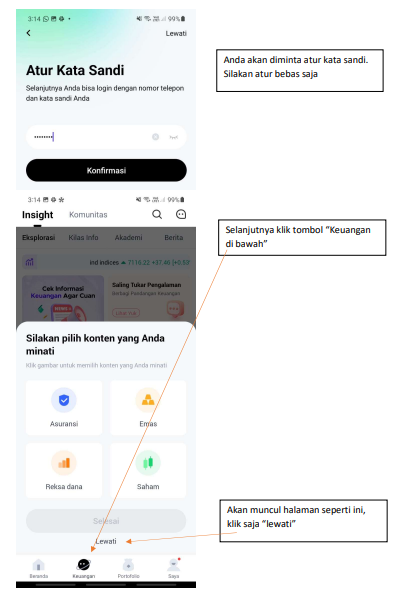 Done. Please read all my writings for free. Don't forget to like, comment and share as I will receive additional incentives for engagement.